BOOK DIRECT SPECIAL
BOOK DIRECT SPECIAL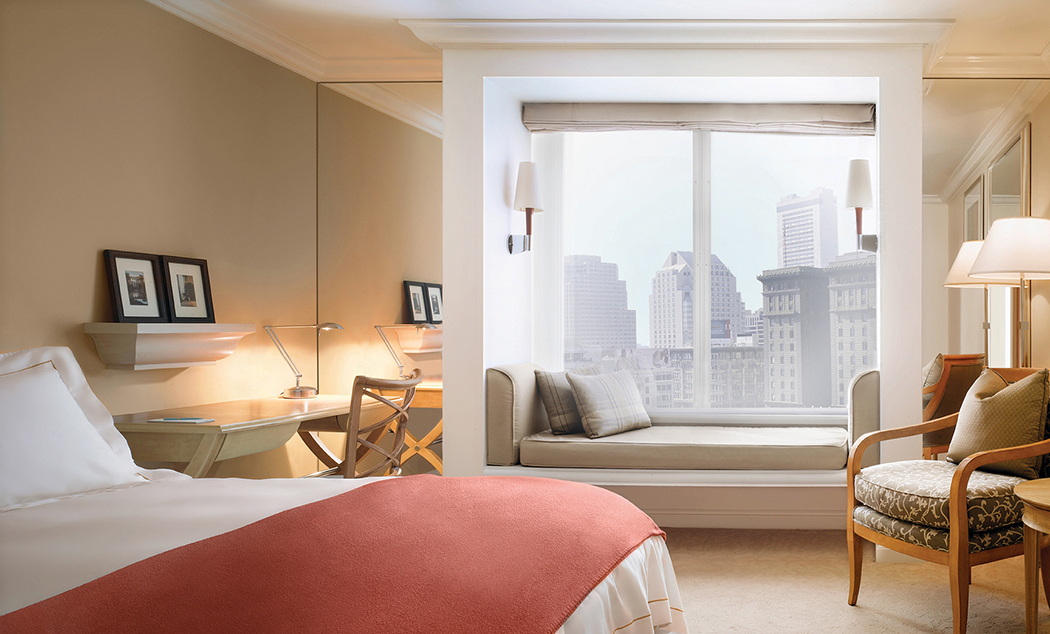 Take The Elevator Home
Enjoy $25 credit for $50 value for all Food & Beverage
BOOK NOW
The jewel in our fine-dining crown is our eponymous Michelin-starred restaurant that serves a unique Cal-Indian cuisine. Chef Srijith Gopinathan is changing the architecture of California cuisine as he blends California fresh ingredients and the use of its smoke, fire and brining techniques with India's multi-faceted regional dishes, aromatics and traditional spice blends.
Restaurant
campton place
Restaurant
Those with an eclectic palate will love Chef Srijith Gopinathan's Cal-Indian menu at the Michelin-starred restaurant Campton Place Restaurant, where a European-Californian sensibility combines with a Spice Route influence to result in a mélange of flavours. The elegant dining space and exceptional service make this one of the best fine-dining restaurants in the world.
EXECUTIVE CHEF
SRIJITH
GOPINATHAN
Alumnus of the Culinary Institute of American, Chef Srijith's unique California-Indian cuisine at Campton Place Restaurant earned him coveted Michelin Guide stars nine years in a row.
Opening Times
Michelin Stars
2011
2012
2013
2014
2015
2016
2017
2018
2019
Wine Events
fine wine
Sommelier
for the wine
connoisseurs
In keeping with the culinary superlatives, our cellar is also highly acclaimed as a destination among winemakers and wine connoisseurs. With over fifteen hundred carefully selected labels from around the globe, our Sommelier, Patrick Miner, can select wines that will seamlessly harmonize with the distinct flavors expressed in the menu.
The wines by glass selection allows for a varied tasting discovery throughout the meal with over forty options. An extensive list of half bottles is also available for those who wish to explore multiple vintages.
Fine Wine
Experiences
At the Campton Place Restaurant we have invited a number of wineries representing individual winemaking styles that portray varietals from unique to traditional approaches. These hand picked wineries present the opportunity to comprehensively examine their offerings across multiple vintages with the wine maker over a pre-dinner tasting marathon.
Master Sommelier
Richard Dean
Master Sommelier Richard Dean is one of only 150 active Master Sommeliers worldwide. His title indicates the highest recognition of wine, liquor and beverage service abilities in the hospitality industry and ranks Dean among an elite group of 68 wine professionals with the title and skill in America and was only the second to receive this accreditation in the country.
Previous
unique meeting place
Bar
& Bistro
We are open 5pm-10pm, 7 days a week.
The Campton Place Bar and Bistro is an intimate meeting place that is as perfect for a business engagement as it is for a friendly gathering or a romantic rendezvous. Our Bar and Bistro is a cozy setting for memorable occasions or reflective moments.
EXPERIENCE THE BEST SAN FRANCISCO HAS TO OFFER
private dining
Our private dining rooms offer an exquisite backdrop for special occasions. Architectural and design touches such as marble, brass, original art, and wood moldings evoke and elegant European style dining space for small and large gatherings.

We offer three different rooms, in addition to a stunning foyer and executive board room, providing a flexible space for your next memorable event.
Reservations
RestaurantReservations are available and strongly suggested for all meals in the restaurant. Please note that only prix-fixe menus are offered in the restaurant during dinner service.
Holiday menu pricing, selection and formats may vary from our usual offerings. Please contact us for further details.
You may also call us at (415) 781-5555 for reservations 7 days a week from 7am –11pm.
Please note that all reservations will be confirmed by phone at least 24 hours in advance.
For large parties greater than 6 guests, please call us directly.
Bar & BistroSeating is available on a first come, first serve basis.
Private DiningCampton Place offers a customized private dining experience for parties of all sizes.
Please contact Sarah Donovan at (415)733-5086 or sarah.donovan@tajhotels.com
Child PolicyAll guests must partake in the full tasting menu. Due to the length of the meal and the quiet ambiance of the dining room, we recommend that children under the age of 10 join their families in the Bistro. If you are staying with us, please contact the Concierge for babysitting services. Thank you kindly for understanding that many restaurant guests are celebrating a special occasion and look forward to a relaxing, uninterrupted evening.
Campton Place Restaurant, Bar & Bistro and our Private Dining Spaces are accessible. For more information on accessibility, please view our Accessibility Statement